Where girls have fun becoming model young ladies, building confidence, inner strength, and awareness through runway and etiquette training, in addition to learning how to present their best and most beautiful appearance. Instruction comes from modeling and fashion industry professionals, recognized experts in hair, make-up, fashion, health, nutrition, and social media, and is led by one of the top international models.
A model prep girl commands a room just by walking in!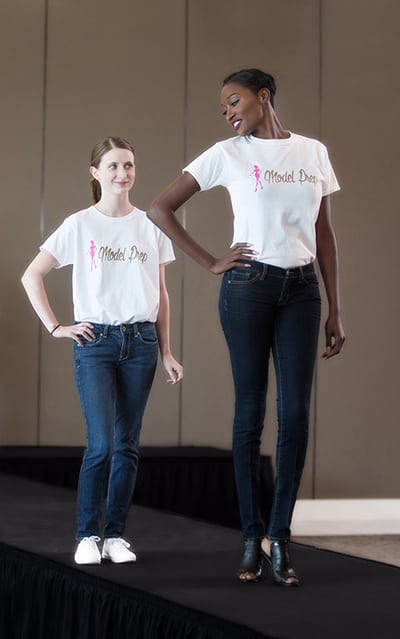 Testimonials
A month prior to my daughter attending Model Prep, we were dealing with some serious self-esteem issues, due to her being bullied for being "so skinny.".  After attending Model Prep, her attitude and confidence skyrocketed to a whole new level.  Her self-esteem was not only boosted, but she also incorporates the skills learned in her everyday life.  Her favorite session was on etiquette, and she now uses the tools learned to teach others in the family.  I cannot say enough good things about the positive impact Model Prep has had on my daughter.  I highly recommend Model Prep to anyone looking for their daughter to build confidence, learn new skills or just be connected with positive people!
Thanks,
Adrienne
Model Prep has increased my daughter's self-confidence immensely.  Amber's professional and encouraging presence was an excellent role model for my daughter.  My shy child blossomed during and after this incredible program. She has gained social skills to use throughout her lifetime. This is a well thought out program that makes a wonderful impact.
Thanks,
Lisa
Amber's attention to detail and design are amazing! Every Model Prep girl who has been in attendance is wowed--and it's all because of her heart to help and empower girls, and to teach them to live out their beauty with confidence and poise.
Words can't express how grateful I am for the Model Prep program, with its emphasis on etiquette, fashion and genuineness.  Amber is steady in her love for the girls and her presentation of this life-changing program. Thank you, Model Prep--my daughter and I can't wait till next year!
This is the best program for girls, hands down, in the United States!  I'm so proud to be a part of the Model Prep program.